Andrew Mevissen
Waves of Australians are now shunning concrete and chlorine for wilderness and waterfalls when taking a dip. Here are seven of the best wild swimming spots in the Top End of the NT.
Southern Rockhole, Nitmiluk National Park, Katherine –
A beautiful waterfall that plummets into a gorge-cradled pool. A 4km walk with gorge views from the carpark, and a 10-minute ferry boat trip back via Nitmiluk Gorge, this location is best in March or April after the wet season.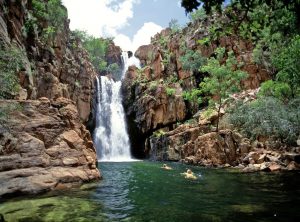 Boulder Creek, Kakadu National Park –
An easy 2km loop walk from the Motor Car Falls carpark takes you to a series of little, cascade-fed, crystal-clear pools – each more beautiful than the next. They're shaded by the jungle and you'll likely have your favourite swimming hole all to yourself.
The Swimming Hole, Nitmiluk National Park, Katherine –
This mysterious place doesn't have an official name but 'the swimming hole', is what local chopper pilots call it. It's a remote and beautiful hideaway only accessed by joining a thrilling, two- hour adventure swim helicopter trip offered by Nitmiluk Tours. Flying you over the gorge and landing at a deserted waterfall and lagoon which you can enjoy all by yourself.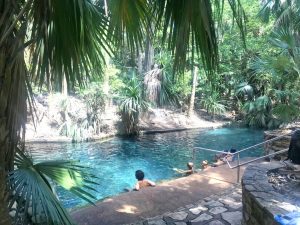 Mataranka Thermal Pools, Mataranka –
A little piece of paradise south of Katherine where warm, turquoise, thermal pools soothe the muscles year-round, shaded by a jungle of palms. A must-stop place for a swim on the drive north.
Gunlom Falls, Kakadu National Park –
This natural infinity pool, offering sweeping vistas across Kakadu, is one of the Top End's most magical swimming spots and has become an Insta hit with tourists around the world. There's a bottom pool but a short, steep walk takes you to the spectacular, upper pools and falls, which beg a luxurious dip while you admire the view. This spot is best straight after the wet in April or May, and arriving early means you can to soak in the serenity all day long.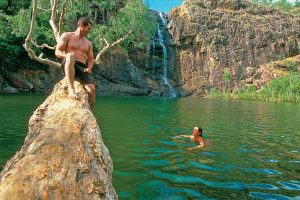 Motor Car Falls, Kakadu National Park –
This deep, little-known pool, fed by a majestic waterfall and hugged by cliffs and lush, monsoon forest, is a real find, offering a shady hideaway from the Top End heat. Accessed by a 7.5km return walk and usually available year-round.