These are recipes by John Ross, a professional executive chef with over 30 years of experience.
Fresh Oysters with Shallot Vinegar Dressing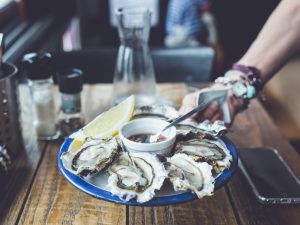 Ingredients
2 French shallots – (small oval onions)
90ml forvm cabernet vinegar – buy from quality grocery stores
Salt & pepper to taste
Garnish with fresh lemon slices
Freshly shucked dozen raw oysters (Sydney Rock Oysters are ideal)
Method
Peel shallot, finely dice shallot small. Add salt & pepper.
Add vinegar. Let it sit for an hour, and then serve so that the flavour matures.
This is used as an accompaniment for raw oysters. Can be kept in the fridge for usage over the festive period or until your oysters are finished.
Seafood with Cocktail Sauce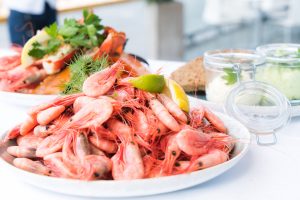 Ingredients
80ml quality mayonnaise (Hellman's brand is ideal)
40ml tomato ketchup
5ml worcestershire sauce
5ml horseradish
2ml tabasco sauce
Garnish with fresh lemon slices
Method
Mix all ingredients together.
This is used as an accompaniment for cold seafood – prawns, crab, bugs, can be kept in the fridge.
Vanilla Panna Cotta with berries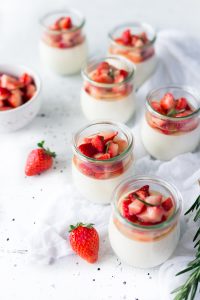 Ingredients
500ml single pouring cream
45 grams castor sugar
7 grams powder gelatine
1 tsp. vanilla extract or paste
1 punnet of strawberries
1 punnet of raspberries (optional)
20ml Grand Marnier liqueur (adults) or fresh orange juice (kids)
20 grams castor sugar (for strawberries)
Method
Soak gelatine with 40ml of cream. With the rest of the cream, add it with the sugar and vanilla paste in a heavy base pot and bring to the boil.
Take cream off the heat and whisk in the soaked gelatine in cream mixture. Stir until dissolved.
Pour into 4 clear glasses and let sit in fridge until set. Can be made the day before.
Wash and hull the strawberries, cut in half and slice into small wedges.
Mix the cut strawberries with sugar and Grand Marnier liqueur, or fresh orange juice if recipe is for kids. Do this 30 minutes before you serve your panna cotta.
Special Glazed Ham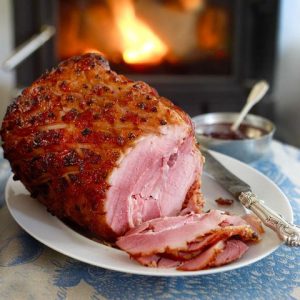 Ingredients
1 whole ham
100 grams brown sugar
100 grams honey
50 grams dijon mustard
Whole cloves to stud ham
100ml water
Method
Pre-heat oven to 150 degrees – the ham will go on the bottom shelf.
Prepare the ham by (if unsure how to do this, watching a YouTube tutorial is best) making a cut through the skin at the shank. You can do a straight cut or a van dyke cut (zigzag).
Gently put your hand under the skin of the ham and gently lift the skin off, leaving behind a good layer of fat.
Score the fat with a sharp knife into diamond shapes. Stud the diamonds with the whole cloves.
Keep the skin and place it in the baking tray. Place the ham on the skin within the baking tray, add a good portion of the glaze over ham, and add room-temperature water to the tray. This helps the glaze not to burn during cooking. Cook ham for 1 ½ to 2 hours.
Make sure to keep a leftover portion of the glaze so that you can baste the ham every 20 mins.
If you choose to make gravy for your Christmas occasion, use any leftover glaze and skin to make gravy as it adds great flavour.