Marlene Even
A group of eclectic and gifted poets from the humble North Shore have launched their second ever anthology, The Intimacy of Strangers. The anthology includes the marvellous work of local poets such as David Malouf, John Carey, Eileen Chong and Benjamin Dodds.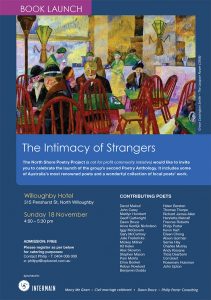 The works within The Intimacy of Strangers capture the atmosphere of the group's dinners at Rubino's Restaurant and the local favourite in Willoughby, The Incinerator, dinners that centred on discussions of poetry. The book explores the "epidemic of suburban aloneness", an issue the group has tried to deter through facilitating meetings and gatherings. The anthology captures an intimate sharing of emotions, thoughts and beliefs.
Advertised as a "textbook for anyone interested in bringing people together in a supportive and meaningful way," this book highlights the talent of North Shore poets through a communal feeling of togetherness and belonging.
The book will launch on 18 November at Willoughby Hotel at 4pm, so be sure to come on down and celebrate the poetic beauty of this new book.
For more information visit the North Shore Poetry Project's website.