Hannah Prasad and Isabella Ross
To aid students in the challenging quest to discover which occupation they wish to pursue, Sydney Observer has founded a new feature within our Education section of the website– the Career Spotlight. We spoke exclusively with individuals who work within the field of nursing. Georgia Butler is a second-year registered nurse working at Royal North Shore Hospital. Her love of interacting with people, and compassionate nature encouraged her to pursue a career in nursing.
"I have always enjoyed interacting with and meeting new people. Nursing is perfect for that because you meet lots of new people every day. I had always been interested in medical things and loved watching anything medical related on TV. My mum worked as a Mothercraft nurse and I always enjoyed listening to her stories, this sparked my interest for nursing. When I first finished high school I was accepted into psychology and nursing at university but initially chose psychology. I ended up not enjoying it and changing to nursing. Nursing was always an option, and something I had considered but I wasn't entirely sure what it involved. It wasn't until I started nursing at university and going on my first placement that I decided that the job was for me."
Doing internships or work experience is a great way to delve into your industry. Experiencing a behind the scenes look can help you decide whether the career path you wish to take is something that motivates and excites you.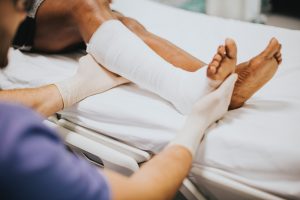 "When I decided I wanted to study nursing I wasn't completely sure what to expect. At university we went on placements and being a student nurse is completely different to being a registered nurse. I had no idea how busy a shift could be when all the responsibility is on you, although you quickly adapt to the situation. I also could have never imagined that shift work would be so difficult, although I still enjoy it a lot."
"My favourite part about nursing is meeting lots of different people every day. By speaking with patients you get to hear lots of interesting stories. Nursing is also very rewarding because generally your patients are very thankful for everything you do. Nursing has also made me very grateful for my health and for the health of those I love; it really puts everything into perspective."
Robyn Harrison has worked within the nursing industry for over 38 years, and is currently employed as a clinical nurse for a community-nursing organisation. "Why am I still nursing 38 years on? There may be double shifts, long hours on your feet and situations that see you work when others are asleep or enjoying Christmas with family. Staff/patient ratios are a huge concern in the nursing profession, as the industry continues to demand more staff to less patients so they can provide better care."
"There are never enough nurses. People may abuse you because they are scared, in pain or just not where they want to be in their lives. This can be intimidating. No one should go into nursing thinking it is glamorous or a carbon copy of a TV show."
"So why become a nurse? For me, it's a very cliché and simple reason. Taking care of others when they are at their most vulnerable, frightened and possibly unsure with what their future holds is a privilege. Delivering a fragile newborn, holding someone's hand or that of their loved one as they take their last breath."
"Soothing someone when they cry, making them laugh when they have no one else to talk to, or saving a life with your hands and your knowledge. Teaching the frail to become more independent and regain their self esteem, healing their wounds, or calming their pain and knowing you made a difference in someone's life are more than enough reasons to choose nursing as a profession."