Isabella Ross
Hacienda Sydney
Arguably one of the trendiest locations in Sydney at the moment, the Hacienda has become an iconic bar within the metropolitan hub of Sydney's Circular Quay. With a Cuban inspired menu and interior, this botanical oasis with opulent furnishings is the perfect place to enjoy with friends or see a breathtaking view of the Harbour Bridge. Known for its aesthetic rum cocktails this bar can be on the pricey side, so aim to visit The Hacienda for a special occasion, rather than a regular night out.
Our favourite drinks:
WILD GINGER JULEP: Bulleit Bourbon infused ginger, rosemary syrup, lemon juice, mint
FRESA SPRITZ: St Germain Elderflower Liqueur, strawberry syrup, soda water, Prosecco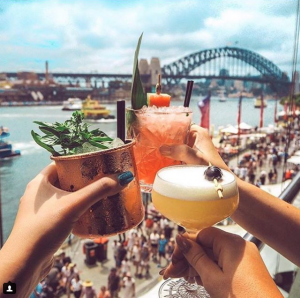 El Camino Cantina
Say Hola to a night of Texan-Mexican cuisine at the El Camino Cantina Restaurant and Bar. Famous for its giant sombreros and well-priced margaritas, as well as its sizzling fajitas and tacos, this venue is the perfect way for a foodie to spend a Friday night. With enough neon lights to light up the Las Vegas strip, this bar is the ultimate cohesion between food, cocktails and fun. Located in the bustling cobblestone streets of The Rocks, El Camino Cantina also has a range of weekly deals on offer including 'All you can eat tacos' on Fridays.
Our favourite drinks:
FROZEN MANGO, STRAWBERRY, OR CLASSIC MARGARITA
SYMPATHY FOR THE DEVIL: Blanco tequila, Chambord, fresh lime, jalapeno & ginger syrup topped with ginger beer
The Governor
For all those 'after work drinks' enthusiasts, The Governor's roof-top bar is the place to go! Recently opening to the public, this expansive multi-level pub is booming with popularity in the Macquarie Park business precinct. The Governor offers a diverse range of beautifully designed spaces to eat, drink and socialise, with timber detailing, exposed brick and live garden walls igniting a relaxed and inviting atmosphere. The drinks menu is its shining beacon, with over 20 cocktail choices, an array of vintage wines and aged spirits. Did someone say happy hour?
Our favourite drinks:
THE GOVERNESS: Gin, lemon, raspberry, marshmallow, milk, ginger float
THE GOVERNOR: House spiced rum, sugar, bitters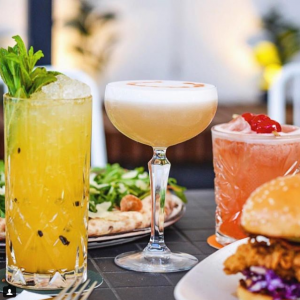 Suey Sins
For a hip venue that oozes culture, seduction and Asian fusion, there is no other destination than Suey Sins. Located in the inner-city suburb of Surry Hills, this bar has a dark and moody interior, paying homage to the pre-war charm of Asia through its décor and menu. Its cocktail menu is most definitely Instagram-ready, as well as their delicious nibbles, like the edamame beans with shichimi, the pork belly bao and suey signature fried chicken.
Our favourite drinks:
FRESH TO DEATH: Jinzu gin, pomegranate juice, fresh pomegranate, soda
COCO-LOCO: 1800 coconut tequila, Cointreau, coconut puree, lime juice, toasted coconut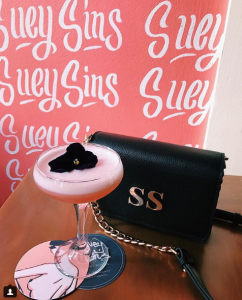 The Newport Arms
Even though this premium venue is not explicitly a bar, but also a restaurant and hotel, The Newport Arms has become the number one place for Northern Beaches residents to soak up the sunshine and enjoy some drinks. Recently revamped, The Newport has been masterfully created into a contemporary outdoor eatery with photo opportunities available at every corner. There is something to please every patron's taste buds, including a pizzeria, burger shack and seafood shed throughout the waterfront beer garden. Also to the delights of cocktail lovers there is an extensive beverage list that includes craft beer on tap, artisan margaritas and even flutes of bubbly. So for Happy Hour with the girls or a boozy Saturday brunch, look no further because The Newport has you covered!
Our favourite drinks:
PINA COLADA: Havana 7 rum, fresh pineapple and coconut
BASIL SMASH: Vodka, licor 43, rockmelon, basil