By Marlene Even
In Sydney, we are lucky to have access to plenty of pools and beaches for the community to enjoy. However, with drowning listed as the number one cause of accidental death for children under five years of age, it is imperative that children learn how to swim and are supervised. Learn2Swim week is imploring parents and the community to get behind their water safety initiative this October.
New research, commissioned by Poolwerx, revealed that almost half of Australian parents rated their children's water safety skills as poor or average. A further one-in-three parents alarmingly believe that their child would be unable to get out of a pool if they fell in.
"Learn2Swim Week is providing that wake-up call for parents and grandparents that our kids must be taught the skills that could help them get out of trouble in water, otherwise the consequences can be tragic," Laurie Lawrence, a former Olympic swimming coach and Learn2Swim Week ambassador said.
"With so many parents experiencing a water emergency with a loved one, they can no longer say 'this will never happen to my family'."
The Royal Life Saving Toddler Drowning Prevention plan, urges parents and carers to follow their 'Keep Watch Actions': constant supervision, teaching children water safety skills, creating barriers between a child and water and knowing CPR.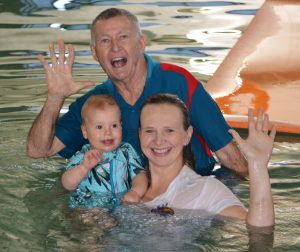 In its 4th year the Learn2Swim week will run from 2 to 9 of October. The campaign will be offering free swimming lessons to children under five years of age.
Numerous swim classes in the North Sydney area, will take part as well as, Turramurra Learn to Swim, Lady Davidson Private Hospital Pool in North Turramurra, Ku-ring-gai Fitness and Aquatic Centre in Pymble, Rifkin Swim School St Ives, Swim First-Fitness First St Leonards and Jump! Crows Nest.
To book a free swimming class visit: http://learn2swimweek.com/