Isabella Ross
A Tropical Oasis
With summer sunshine comes tropical fever! Bringing the outside indoors is always a great way to implement a tropical-style design. With lively pops of citrus and cerulean blue ocean hues it is one of the easier design trends to adopt in the home. All it takes is an accent metallic pineapple, some ferns in weave baskets, coastal-coloured cushions and a source of natural light to create a space that you and your partner are sure to envy. Having white and sandy-toned furnishings and wall colours and then accessorising with colour is definitely fitting for an on-trend tropical oasis.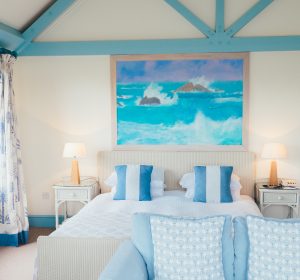 Moroccan Textures
Providing you with a multitude of cultural aesthetics to marvel in, incorporating elements from Moroccan culture into your décor has become a prominent trend. When you hear 'Moroccan design' think bright colour palettes, bohemian textures, Arabesque lamps, ottoman seating and even exotic features tiles. This trend is ideal for those wishing to bring creativity and travel inspiration to their bedroom design.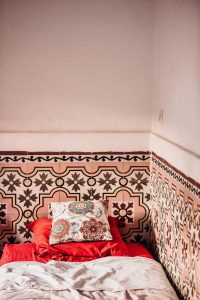 Modern Luxury
A creative way to liven up the interior design of your bedroom is through modern statement pieces. Metallic features have remained prevalent, with gold and copper being two of the more popular finishes. Having a metallic lamp in contrast with monochrome textures is a great way to get edgy with your design. Whether it be a rug, bedspread quilt or canvas print, there are numerous ways to bring contemporary opulence to your space.
French Provincial
Ooh la la – French provincial style is back in fashion! All it takes to mimic this trend in your bedroom is through cleverly picked furnishings. Curved edges are key when it comes to this theme, whether this includes the legs of your bed, a chaise lounge or ornate standing jewellery box. French provincial often features predominantly white fittings with touches of pale grey and another cool-toned colour of your choice. With an air of elegance and sophistication, this design movement is perfect for anyone wishing to bring a touch of Parisian flair into their home.