Isabella Ross 
A bustling city with rich culture, Honolulu Hawaii is a destination of tropical glamour. Marketed to all walks of life, this oceanic paradise is idyllic for families, seniors, backpackers and even honeymooners. With the island being home to some of the most magnificent coastal sceneries and cosmopolitan delights, Hawaii should definitely be on any traveller's list. So here is a guide of Honolulu's highlights.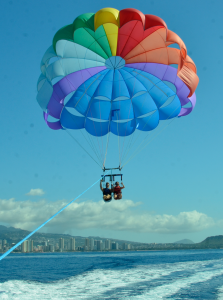 Parasailing:
To get your adrenaline pumping and capture a panoramic view of Honolulu's shoreline book for a parasailing adventure. Even though it may sound daunting the 1000ft line is the best option to choose when parasailing to make sure you get your money's worth.
For prices and further information visit http://hawaiianparasail.com/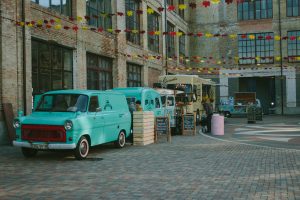 Shrimp Trucks:
One of the most popular foodie spots in Waikiki is the abundance of shrimp trucks on offer. To gain perspective of the local cuisine and delight your taste buds look out for these trucks. Simple, cheap yet mouth-watering food.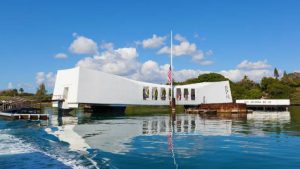 Pearl Harbour Memorial:
For those avid history buffs, the USS Arizona Pearl Harbour Memorial will be high on the list when travelling through Oahu. Taking a tour is the easiest way to experience the memorial site and gain insight into Hawaii's military history.
Shop til you drop!
Honolulu is well known for its Ala Mona shopping centre that boasts some of your favourite outlets and designer brands. Waikiki's main drag is also home to some popular US stores such as Nordstrom and Macy's. Just make sure to wear comfortable shoes, as you will definitely be in no hurry to leave once the discounts surface.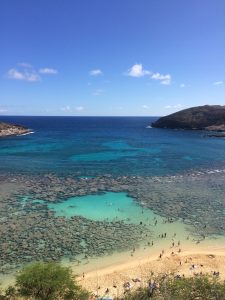 Hanauma Bay
Arguably one of the most breathtaking spots on Oahu, Hanauma Bay is world-renowned for its pristine coral reef, rainbow fish and cerulean-coloured water. This is a must-see for any avid traveller in Hawaii, and is an approximate 40-minute drive from Honolulu if you decide not to go on a shuttle bus tour. From someone who has experienced the tour, the North Shore and Hanauma Bay package on offer is a great way to see all that Oahu has to offer for a reasonable price. The snorkelling here is beautiful, with a plethora of marine life calling the bay home.
For more information on the tour and bay itself visit:
https://hanaumabaystatepark.com/
Paddle Board
If surfing is not your thing give paddle boarding a go. With the option of either standing on the board or sitting on your knees, beginners can try the leisure activity as well. Waikiki Beach on Honolulu's shoreline has several huts where you can hire a board and explore the oceanic delights.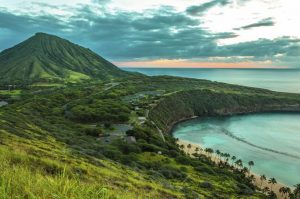 Diamond Head
For exercise enthusiasts who love a good scenic walk look no further than the Diamond Head hike. The walk may appear daunting but in reality the approximated time is 40 – 60 minutes to reach the 760-foot summit. When you get to the top you can bare witness to the amazing 360-degree view of Honolulu's surroundings.