Isabella Ross
Transcending boundaries and fostering a sense of kinship within the Ku-ring-gai community is Boonah Creative Art Studio in West Pymble. What is special about this centre is that it runs specifically to meet the needs of those living with disability looking to pursue passion and creativity.
Established in 1995, Boonah's central objective has been to provide opportunities for people living with disabilities across our local districts. Building confidence, founding lasting friendships and giving these artists meaning and purpose are just some of the numerous positive outcomes of this initiative. To the delight of locals, the space also operates as a gallery open to the public with all proceeds circling back to the artist as recognition of their achievement.
"Our centre's mission is to be inclusive, create opportunities for people with disabilities and give them the power to express themselves through painting," says Julian Baez Avellaneda, Program Designer for CatholicCare's Disability Futures arm.
At the heart of Boonah is the wellbeing of its artists. The joy and passion of creating art is such a therapeutic tool for these students. Catering for a multitude of disabilities, the centre prides itself on their volunteers and staff, some of whom are expertly trained in the field of special education and mentoring.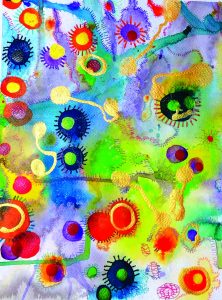 "Through exhibiting their work in a gallery open to the public, the students are able to express themselves as artists – not just as people living with a disability. Art transcends ability. It's a very neat program; everyone involved in it loves it – the staff, students and volunteers. We would love to see this type of initiative replicated in other ways within our community. It's so important for these students to feel included and build relationships."
The success rate of the program speaks for itself. "We have students who have been coming to the centre for over 15 – 20 years, since the day it opened, which is really nice to see," Julian revealed.
It is evident that Boonah Creative Art Studio has harnessed the powerful expression of creativity, paving the way for a sense of belonging within our Ku-ring-gai community.
For more information on the centre visit: https://www.catholiccaredbb.org.au/disability-futures/your-ndis-plan-in-action/boonah-creative-arts-studio/