Isabella Ross
Being the simple act of taking an old object and turning it into something new, upcycling has become the perfect way to add unique design throughout the home. With numerous benefits such as saving money and being environmentally friendly, repurposing also allows your creativity to be unleashed. By upcycling out-dated items into quality décor pieces, it ultimately rings true that one man's trash is another man's treasure!
Repurposed Outdoor Mirrors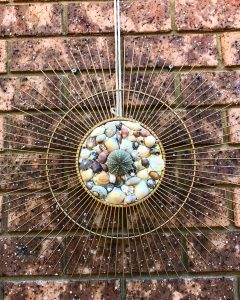 Purchasing a standard, inexpensive mirror and then adding your own creative touch is the perfect way to create a masterpiece that doesn't break the bank. For a coastal themed décor, spray paint the frame gold or silver and glue your favourite shells to the inside of the actual mirror. If opting for a garden statement piece, painting the frame a vibrant colour to compliment the regular green foliage is a great way to add dimension and interest into your outdoor area.
Wooden Ladders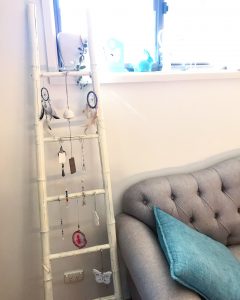 Finding an old wooden ladder is the ultimate treasure for any creative repurposing enthusiast. Even though it is possible to buy a faux-upcycled decorative ladder from a homewares shop, revamping an authentic wooden ladder is a very enjoyable DIY project. Whether it is a herb garden, bookcase, shelving unit or crystal display, these ladders can spruce up any room or outdoor area. Sanding the wood down, and either giving it a lick of paint or varnish is ideal if you are going for the shabby chic look.
Unusual Plant Holders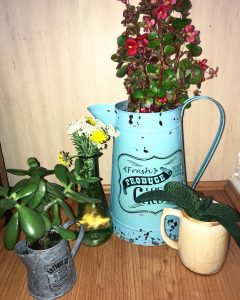 When it comes to this project the possibilities are endless! Options include used wine bottles, watering cans, outdoor wheelbarrows, glass jars and teacups filled with succulents, flowers or even marvellous terrariums. Your imagination is the limit for this styling piece so DIY away, like painting the watering can a bright colour, or wrapping vintage fabric around the glass jar for added effect.
Old Vintage Suitcases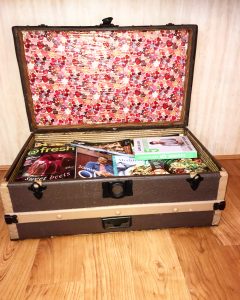 Available at any good antique shop, vintage suitcases and luggage have become a trendy piece in recent years. The best part about the trunk is that it can have a myriad of purposes, whether it be for storage, used as a coffee table, or even be made into a rolling bar. If your suitcase is looking a little worse for wear, sanding it back and giving it a coat of fresh paint is a great way to revamp this vintage showstopper.