Hanna Moore
Chatting with Citizen of the Year Peter Kirkwood, and Young Citizen of the Year Hannah Burn, Sydney Observer gains an insight into the importance of giving back to the local community.
Every year, the Ku-ring-gai council holds a Citizen of the year ceremony to recognise those who have significantly contributed to their local community and to pay respect to their dedication in helping local people.
This year, 21 year-old Hannah Burn won Young Citizen of the Year for her work as the Volunteer Coordinator at St James Anglican Church in Turramurra, putting in countless hours to help those in need.
"We love looking after families, our hope is not to become well known, expand or do more, but rather continue to love and care for those in need in our community.
"As a Christian, I think that as Jesus first loved us, we should go and love others, not because we have to but rather because of the gift we have received, that's why I decided to join this program," Hannah said.
Hannah has worked tirelessly to coordinate six teams of around 100 volunteers, who then venture out into the community twice in the school term to provide assistance for families in crisis.
"Whether that involves gardening, house cleaning and maintenance, looking after fun-loving kids – we do it all!
"We also have two teams which visit local nursing homes to sing and chat to residents," said Hannah.
Hannah's drive to provide love and equality for all members of the community has shined throughout her time as Volunteer Coordinator. Currently studying a Masters in Teaching, Hannah is looking forward to being able to provide more for youth in the community throughout her career.
"It is humbling to be given the Young Citizen of the Year award and to be recognised for the work we have done. I look forward to the opportunities I will have to speak to young people in schools."
The ceremony was also marked by acknowledging the 2018 Citizen of the Year, of which Peter Kirkwood was honoured after almost 30 years as a resident of the Upper North Shore and countless hours spent giving back to the community.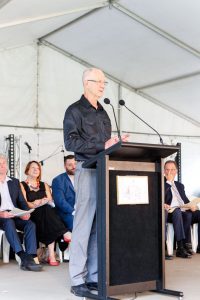 Some of Peter's credits include former president of the Rotary Club of Waitara, helping the development of the new Hornsby/Ku-ring-gai PCYC, and involvements with Hornsby Community Safety Precinct Committee, Ku-ring-gai Police Community Safety Committee and St Paul's Anglican Church.
Peter was kind enough to show off the newly developed Hornsby/Ku-ring-gai PCYC centre, and after 16 years in the making, memberships have sky-rocketed to over 5,000 since its inception in September 2017.
With a number of multi-purpose rooms, a modern gym, two premium indoor sports courts, a fully-catered café and more development in sight, the Hornsby/Ku-ring-gai PCYC has become a cornerstone for community development.
"For a lot of people, we're the new backyard, kids in these high-rises don't have a backyard – so we've kind of become the heart of the community," Peter said.
Peter notes that what sets them apart from others is their ability to create opportunity out of a community that is rapidly changing. For instance, the increasing development of high-rise buildings within this area, and more specifically the building next door to the PCYC, which will be turned into a 12-storey apartment block for seniors – so how can they cater themselves towards the interests of older people?
"How do we look outward to meet community expectations?
"You have a lot of the community who don't want to get involved in sporting or fitness, but want something more cultural, so you've got to cater for everyone."
After being approached by a coordinator of the local Neighbourhood Watch when first re-locating to Wahroonga, Peter followed a previously un-tapped passion for community development that ultimately saw the development of the Hornsby site.
"Over 16 years, there were four different sites, four different designs, four different Development Application's, four PCYC CEO's over that time, four different Hornsby Shire Mayor's, I just hung in there and never lost sight of the vision."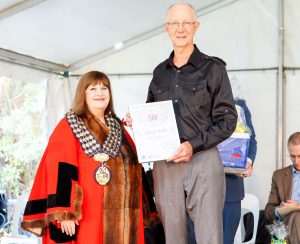 When asked about what has driven this vision for so long, Peter is simply unsure. Peter does however attribute the comfort of having a home in the area as a drive to consistently give back wherever he can.
"I think one of the things that drove me through Rotary, and PCYC, and the Chamber of Commerce, was travelling a lot. So I think getting involved in the community gave me another dimension on life.
"Coming back to grassroots after travelling a lot was a big motivator."
A part of the work that makes PCYC so different, and yet similar to the work Hannah is currently doing, is the emphasis on youth development and providing a system of support for those who might not have one.
"If you're not working with youth now, and youth at-risk, you've got a much bigger problem later on, so there's a lot more emphasis on sorting the kids out before it gets to the point that it becomes harder to reverse."
"When you come to the PCYC, it's part of the ethos to show a lot of respect, and therefore respect for other people, respect for authority, respect for police, so you do see a lot of change."
For both Peter and Hannah, the motivation for their commitment to the community is not for the recognition received, such as that on the Australia Day ceremony, but the ability to engage and give back to a community that has so consistently been able to provide for them.
"It's not for personal reward, you don't get any money out of it, I think it's just to see the community build," says Peter.