Every year, Catholic Schools Week showcases the benefits of receiving a Catholic education, and this year, from 4-10 March, Sydney Schools will be allowing the public to join the community for open days and events all across the diocese.
Open for both primary and secondary enrolments, this week will allow parents to consider their options for when it comes time to send the kids off to school. Check out a few snippets below from a number of local Catholic schools in the North Sydney area that showcase the important role that Catholic Schools play in Australian society.
ON THE ROAD TO CHANGE
Drama students from Mercy Catholic College Chatswood received a grant of $2,200 from the Roads and Maritime Services to perform plays that encourage road safety.
Year 9 students at the College used the awarded grant to orchestrate performances for primary students at Our Lady of Dolours Catholic School Chatswood and St Patrick's Catholic School Asquith, which were performed towards the end of last year.
The interactive performances focused on pedestrian safety, passenger safety, and safety on wheels.
Schools were encouraged to implement a PDHPE Road Safety 'Unit' 3-5 lessons prior to the performance, which would be further enhanced with a survey project discussing the safety of the school zone.
"Our students have this fantastic opportunity through performance to connect with primary school students on road safety issues that are relevant to primary-aged children," said Amy Gill, drama teacher at Mercy Catholic College.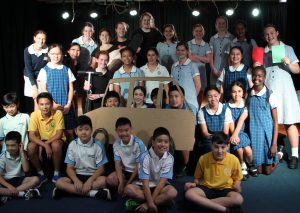 STUDENT ACES DIGITAL TECHNOLOGIES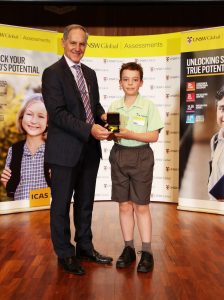 Special congratulations to Michael Dalton, a Year 5 student at St Patrick's Catholic School at Asquith, for his outstanding achievement in the area of Digital Technologies in this year's ICAS Program administered by the University of NSW.
ICAS is an independent, skills-based assessment program which recognises and rewards student achievement in a variety of learning areas. It is a prestigious, quality assessment and over one million student entries are accepted from over 6,300 schools in Australia and New Zealand annually.
Recently Michael received a medal at the University of New South Wales ICAS Medal Award ceremony. Medals are awarded to students with the top score in each subject in each year level. This year over 980,000 entries were received but only 514 students from Australia and 100 students from New Zealand and the Pacific Region were awarded medals for their outstanding achievement. Michael was the only Year 5 student in NSW and the ACT to achieve the highest mark in the Year 5 Digital Technologies Competition.
Whilst waiting to accept his medal, Michael said that he felt nervous, but excited. He indicated that Digital Technologies is an area of learning that he particularly enjoys. He likes writing programs and enjoys helping the teacher each week with his school's Coding group.

PRINCIPAL AWARDED FOR OUTSTANDING CONTRIBUTION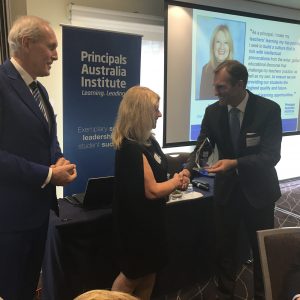 Each year the Principals Australia Institute (PAI) conducts the John Laing Awards which recognise outstanding contributions to professional learning by primary and secondary principals in each state.
Principals from the Public, Catholic and Independent sectors are nominated by their peers to receive the award.
Meredith Tomkins was one of six NSW principals nominated by their respective schools systems, for the contribution she has made to professional learning in her own school and for the way she has shared her work across systems in state, national and international forums over the years.
CODING FOR KIDS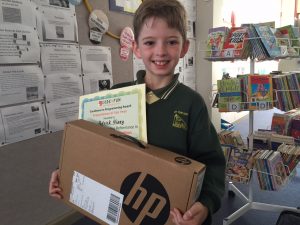 CODE4FUN (the Sydney Programming School) teaches children how to code, create their own computer games, websites and mobile apps. Recently over 1300 students were invited to participate in a challenge to create a Time Machine app.
Students were given 10 weeks to work on their projects with 210 projects submitted including nine students at Our Lady of Good Counsel Catholic School at Forestville.
It took the CODE4FUN team two weeks to judge the entries with one winner, Patrick Nixey, a Year 4 student at Our Lady of Good Counsel. His app is a collection of games, which the user plays while teleporting to a specific time period. Patrick took home a new laptop with touch screen display as a prize. Mateo Smith, also from Our Lady of Good Counsel also performed well with his project ranked in the top 20 per cent of entries.
Both Patrick and Mateo were invited to visit Atlassian, a very successful Australian tech company, where they met the Atlassian team and were able to learn all about what it takes to become a software engineer.