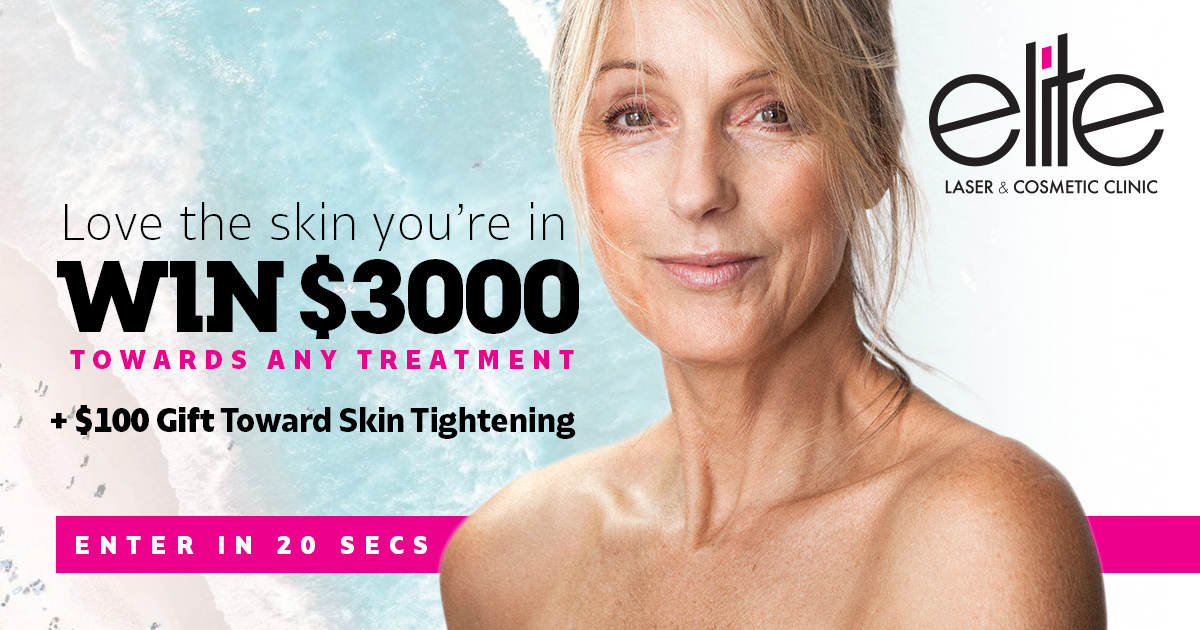 YOUR MOST YOUTHFUL SKIN YET
(NO INJECTABLES, SURGERY OR DOWNTIME NEEDED!)
In a world where so much focus is placed upon appearances it has become increasingly difficult not to let any signs of ageing go by unnoticed, let alone untreated.
Invasive procedures involving surgery or the use of injectables are becoming normalised not only as a way to turn back the clock for the mature-aged but also as an age-preventative measure for youth to stop the clock altogether.
And whilst it is undeniable that the idea of youthfully plump skin and a smooth face is appealing to most, the method of injecting toxins directly into our body's largest organ is somewhat concerning.
But what if we told you it was possible to achieve tighter, smoother and brighter skin without surgery, invasive treatment or injectables?
Experienced Laser Clinician Philippa Condon, from Elite Laser and Cosmetic Clinic, believes that with several best-in-class technologies readily available clients can now achieve "thrilling results" with non-surgical, anti-aging and medical grade skin perfecting treatments such as Thermage CPT, Ultraformer and Fraxel.
Unveiling your youthful complexion is as simple as identifying your area of concern and choosing your customised treatment!
Concern: Sagging Skin
Area: Full Body
Treatment: Thermage CPT
If you have slipping brows, sloping cheeks, a sagging neck, a wobbly tummy, or you have simply noticed your skin has lost its elasticity then Thermage CPT is the treatment for you. Using heat, Thermage CPT works to cause contractions of collagen fibers and stimulate new collagen production.
"As with all cosmetic procedures, Thermage CPT must be used only by well trained qualified clinicians who are careful and precise in its use," advises Philippa.
The skin tightening procedure takes up to two hours with results lasting for up to two years. The best bit is you'll notice results immediately in the first few days with more to gradually come over six months as new collagen is produced.
Concern: Contouring, Lifting and Tightening
Area: Face, Neck and Body
Treatment: Ultraformer
Jowl lifts, jawline contouring, neck lifting, skin tightening, eyebrow lifting, wrinkle reduction, crow's feet, smokers lips – Ultraformer does it all! The treatment is ideal for areas that are particularly prone to sagging skin, such as the cheeks and jowls. However, it can also be used very effectively for skin tightening on problem areas of different parts of the body.
"Ultraformer treatment stimulates long-term production of new, stronger collagen, helping to lift and tighten sagging skin and fill out wrinkles, without downtime," says Philippa.
Ultraformer uses highly sophisticated Micro-Focused Ultrasound energy to rejuvenate three critical levels of your skin's infrastructure. It has an immediate tightening effect by contracting the collagen fibres that support your skin.
Concern: Skin damage, Fine lines & Creases.
Area: Face, Neck, Chest and Hands.
Treatment: Fraxel
If you have areas of skin discolouration, fine lines and/or sun spots a Fraxel laser treatment could be the ultimate skin rejuvenation you've been longing for.
Fraxel works by driving thousands of individual columns of light (about the width of a hair) deep into the skin, leaving the remaining skin to stimulate collagen. The microscopic columns of treated skin are eliminated slowly over many weeks as they are replaced by healthy, new tissue.
"The Fraxel laser is the biggest breakthrough in skin repair and rejuvenation of this decade. This is due to the fact that it can penetrate into the deeper layers of the skin (dermis) and the amount of skin treated each time can be varied," says Philippa.
You will find your skin improves in thickness and elasticity, as well as in colour, lustre and tone. Depending on your skins needs, you will need 1-5 sessions, 2-6 weeks apart, for best results.
Caring for your skin and protecting it from the natural ageing process has never been easier. However, with so many state-of-the-art medical treatments available it's increasingly important to do your research and visit a clinic with trained professionals who are able to offer educated advice on what treatments suit your personal needs.
Thanks to Elite Laser and Cosmetic Clinic, each reader has the chance to win $3000 worth of Elite Laser treatments. Plus every competition entrant will also receive a $100 skin tightening gift voucher!