Stephanie Stefanovic
As we get older, our skin tends to become drier and more prone to wrinkling. Wrinkles definitely offer a certain charm, and there is nothing negative about the natural process of ageing. However, the menopausal changes that take place after age 40 can wreak havoc with our skin, causing acne breakouts and excessive dryness. Here are some tips to help manage these new changes to your skin.
Cleanse
With dry skin, it's important to choose the right cleanser. Many cleansers on the market contain harsh chemicals that strip the skin of its natural oils, causing the skin to feel tight and dehydrated. Choose a cleanser with natural, moisturising ingredients such as rosehip, jojoba and vitamin E.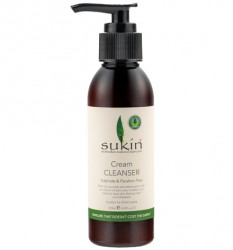 Sukin Cream Cleanser – $10
Available from Priceline stores.
Exfoliate
As we age, the outer layer of our skin becomes thicker. This makes exfoliation more important than ever, as removing dead skin cells leaves the skin looking brighter and smoother.

Elizabeth Arden Ceramide Line Smoothing Exfoliator – $65
Available from Myer stores

Soda & Co Sugar Body Scrub – $23
Available from sodaandco.com
Brighten
With age, the skin can begin to look a little dull. You can restore your skin's natural radiance by using brightening products.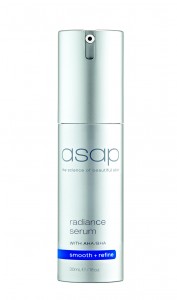 Asap Radiance Serum – $70
Available from adorebeauty.com.au
Moisturise
Just like with cleansers, it is important to choose the right moisturiser for your skin. Moisturisers containing Retinol and glycolic acid are particularly good for mature skin, as they have exfoliating and brightening properties. They can also help to address any pesky breakouts.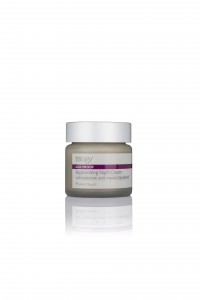 Triology Age-proof Replenishing Night Cream – $54
Available from Priceline stores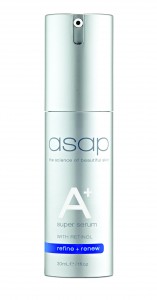 Asap Super A+ Serum – $70
Available from adorebeauty.com.au
Nourish
When it comes to keeping your skin at its best, good nutrition is just as important as skincare. Drink plenty of water and make sure you consume a good amount of protein and Essential Fatty Acids. You may also want to take supplements of vitamin E and C to protect the skin against free radical damage.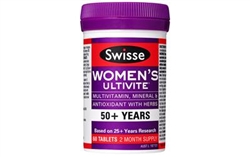 Swisse Ultivite Women's 50+ Vitamins – $37
Available from Priceline stores