Australia's Biggest Morning Tea came to Killara last month. John Seroukas reports.

Sydney residents braved torrential rain to attend Australia's Biggest Morning Tea at Killara Uniting Church this May. Hosted by North Shore resident Susan Mitchell, the event raised $4630 for Cancer Council Australia.
"I'm so grateful for you all coming," said Ms Mitchell, a former cancer survivor. "Most of us are volunteers."
Cancer is an issue that will affect most of us, with 37 500 NSW residents being newly diagnosed each year. Guest speaker Tony Breinl, a volunteer of the Cancer Council's Community Speaker Program, has survived cancer twice.
"Within a year or two, cancer will be the most common cause of hospital admissions," he said. "People are living longer, so we'll find more people living with cancer."
Events like Australia's Biggest Morning Tea play an important role in creating awareness and raising funds for The Cancer Council. The organisation has saved more than 61 000 lives through cancer prevention, screening and treatment.
What's more, $14 million is raised for research each year, which is vital to understanding such a complex disease.
This money is extremely important, according to Mr Breinl. "There are 22 varieties of breast cancer, for example, and they all need different approaches in terms of research," he said.
Mr Breinl also noted the financial difficulties that can arise when a person is diagnosed with cancer.
"Cancer is something that hits you all of a sudden," he said. With this in mind, The Cancer Council allocates $7.3 million to programs helping cancer sufferers with financial and legal problems.
This is just one of many ways The Cancer Council acts to support cancer sufferers, making fundraising events like Ms Mitchell's all the more important.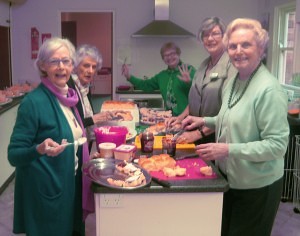 If you have any questions regarding cancer, you can call the Cancer Information Support Line on 13 11 20 to talk to a qualified health professional.