Notorious former Big Brother host, Gretel Killeen, is heading back to comedy for the Sydney Comedy Festival, and is going to become the God you've always dreamed of. Written by Steph Nash


If you're dissatisfied with your society, you can show your frustration in a few ways. You could write a letter to the Prime Minister, and hope it gets answered. Failing this, you could pen a ranty blog and hope it goes viral. Or, you could do what Gretel Killeen is doing, and start your own cult.
"At the moment [I am] working on a cult outfit. I looked at the doona cover this morning and I thought, 'Could I do anything with that?'" Gretel says.
"I do feel it needs to be kaftan like and non-competitive. I want everyone to be able to adopt it, but I still want to be the leader. So mine has to be a special colour."
The presenter and comedian will be collaborating with fellow performer, Jackie Leob, for the Sydney Comedy Festival in their latest show, In Search of a G-Chord. For her first act, Gretel will be presenting disgruntled Australians with an alternative leader to worship: herself.
The self-proclaimed Minister for Men has decided to abandon the narrow title, and instead focus broadly on becoming a Minister for all Australians.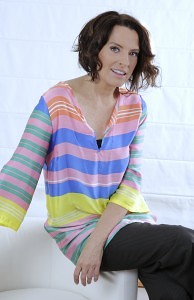 "I just feel that I should become a cult leader, and this is possibly my opportunity," she says.
"I had a sudden thought the other day. I thought, 'Oh, this society needs a leader. I'll do it! I'll step up to the plate!' So, I'm forming a cult and leading it."
Earlier in the year, Gretel teamed up with writer Kacie Anning to produce the satirical web series, The Minister for Men. Gretel masterfully plays the obnoxious, newly elected minister – a woman representing a gender she clearly does not relate to. The Minister for Men spends her office hours making cringeworthy generalisations about her constituents, and rejecting the credibility of her only male employee.
The Minister for Men series boldly confronts the everyday double-standards that are faced by women in society. In once instance, the Minister refers to her assistant, David, as "sweetheart" – a cringingly patronising act that many women can relate to.
But what was the real message behind the Minister for Men series? Bluntly, it's that Australians seem to put up with a lot of garbage.
"What is amazing is the realisation of how much behaviour is part of normal everyday stuff that we don't even notice," Gretel says.
"When we started performing, we realised how easily some of it rolled off the pen or off the tongue. We realised that sexism was underlying… In that series, it was amazing reversing the roles as we did, and how it was just a replication of what our lives are like, and what we put up with."
Originally conceived as a promotional video for Sydney Opera House's International Women's Day event, All About Women, the Minister for Men series became a smash hit across the country. It has been touted by the mainstream media as a feminist triumph – but that's not exactly the label Gretel is looking for.
Born and raised in North Shore's Turramurra, she left her family home at 17 years old to start a new life in the city. She lived in a flat behind Taylor Square on Oxford Street, and became part of the iconic liberal locality that advocated, and still advocates, equality for all.
Gretel says that although her intentions behind the Minister for Men series were innately tied to her hopes for women's equality, she doesn't want the buck to stop there. To Gretel, equality means more than simply women's rights. In an ideal world, she would like equality for all – but she would still be the figurehead, of course.
"For me, sexism is a big issue. But I think the bigger issue is the recognition of all, equally," she says.
"I don't believe in [sexism] being just a cause. I think it is a symptom of a lack of resepct for others, which is seen through sexuality, race, class, socio-economic distinction and in ageism. I don't want to simply trumpet anti-sexism, I want to trumpet all of it… I think everybody needs equal opportunity."
It's fair to say that Gretel wasn't always treated equally in the past, having faced some serious public scrutiny in her years as the host of Big Brother – which, we should all be reminded, she also co-wrote for Channel 10. In 2007, she was axed from the program after the network decided it needed a 'lighter, more energised' approach.
Two years earlier, former Prime Minister John Howard, and former Opposition Leader Kim Beazly begged the network to cancel the program, after two male contestants sexually assaulted a female contestant in the house. Producers refused, arguing that a cancellation would only lead to greater unemployment.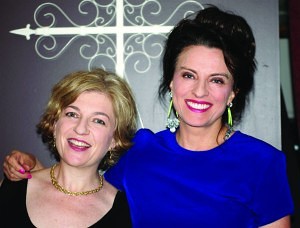 And so, the show remained after two men committed a violent, misogynistic crime on national television.
It's been eight years since Gretel Killeen left Big Brother, and truthfully, times have changed.
"I think amazing steps have been made actually. Ita Buttrose is the lead panelist on studio 10 and she's nearly 70. That's amazing," she says.
"Liz Hayes [from Channel 9's 60 Minutes] is in her late 50s. Lisa Wilkinson: mid 50s. This has absolutely turned on its head. There is recognition now for the wisdom, wit and sassiness of older women in the media… If you've made it that far, you've got grit. And that's worth supporting from a media perspective."
Having well and truly moved on from Big Brother, Gretel is going back to her first career: comedy. Blessed with the beauty of hindsight, Gretel uses her experiences to make an example of society – and always in the most hilarious way possible.
For all that think they are forgotten about by society, never fear. You have a new leader.
Her name is Gretel Killeen, and she has some marvellous words of wisdom for you.
"I think the absolute most important thing that most people don't do – in fact, I think statistically it's like 98 per cent – is that they don't fulfill their own uniqueness," she says.
"And it's the hardest thing in the world to do, but the most rewarding. And I would say to anyone: be brave. Whatever you think your limitations are – push outward from there. Just push, push, push! And see what you're capable of doing."
Gretel Killeen and Jackie Loeb will be performing In Search of a G-Chord at the Factory Theatre, Marrickville from May 12 – May 17. For tickets, please see sydneycomedyfest.com.au