You'll be Ravin' about the Haven, Steph Nash writes. Photography by Roger Zhao.
Another café has opened in Surry Hills. I know right, what else is new? Surry Hills might just be the coffee-snob's paradise, with venues like The Reformatory Caffeine Lab and Devon Café attracting caffeine addicted regulars from all over the city. With such fiercely rife competition, new coffee shops in Surry Hills need to pull out the big guns to make their mark.
 And the new Haven Café has done just that.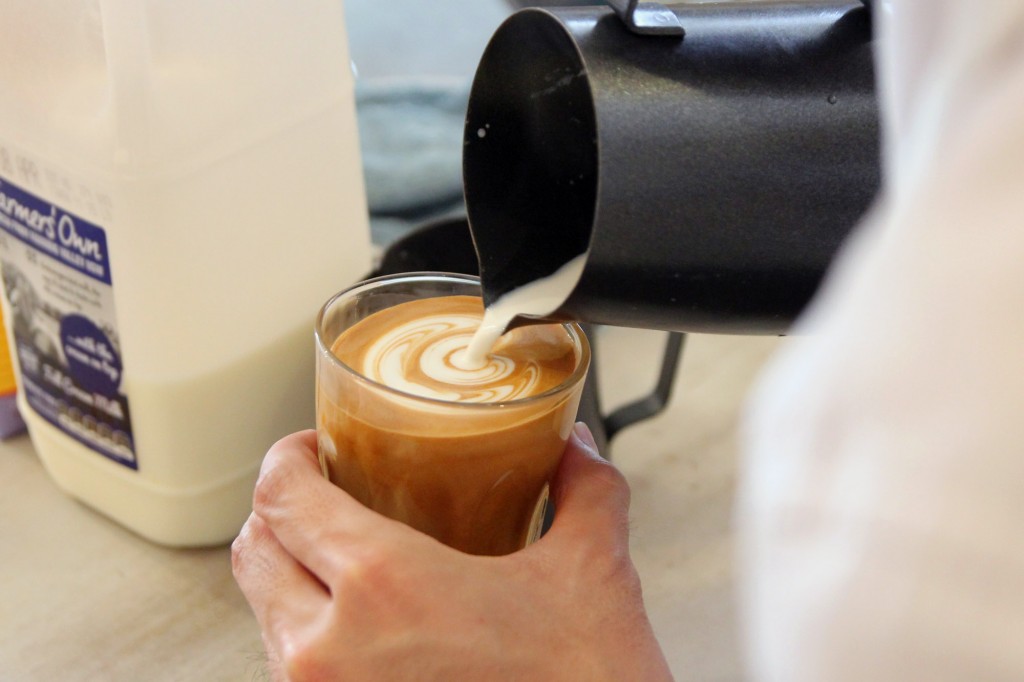 Two words: Coffee. Tailoring. The new kid on the block promises a completely customisable coffee experience for every customer, allowing the fussiest of drinkers to put their in-house baristas to the test.
 Want a sweeter tasting coffee with less acidity and a full body? No problem.
 How about a smooth cold-drip coffee with a nutty aftertaste? You got it.
 It's a coffee-snob's Mecca.
 Customers can tailor their coffee from the Haven Café flavour chart. On request, your barista can control the aroma, sweetness, acidity, body and aftertaste of your beverage. According to the talented men and women at Haven, there is no task too great. They apparently enjoy the challenge, and welcome the most particular coffee drinkers to put them to the test.
 We had a chat with Barista Bruno Koo, who is a former sensory judge of the World Barista Championships in Hong Kong. He said that there are a few ways in which a barista can tailor the coffee to suit the drinker. The size of the grind, temperature, brewing time, coffee to water and milk ratio, and origin of the coffee beans can all affect the outcome of your coffee. Haven are lucky enough to have a plentiful wait staff, as well as two coffee machines to help you find the coffee of your desires in next-to-no-time.
 If you're dining in, the flavour of your coffee can be controlled with a small portion of edible goodies. For instance, a handful of almonds might make your drinking experience that little bit more velvety. Or, if you're after a fruity flavour, you might try munching on a few currants.
 Sound complicated? If you're not a coffee connoisseur, this probably isn't for you. But if you knew what was on the menu, you'd probably go out of your way to find it…
 If your own personalised coffee wasn't enough, Haven Café also specialises in hearty, modern Australian cuisine. Think Asian-fusion with an organic, sustainable twist.
 The highlight of the day was the Pork Belly Kimchcheese Burger. The balancing of sweet, sour and spicy flavours was quite impressive – it's a big thumbs up for Korean culinary enthusiasts.
 We were also suprised by the café's reinvention of a Chinese classic – a Drunken Chicken Kale Ceasar Salad. With our paletes probably searing with spicy kimchee, the salad was a little bland in comparison. None the less, it would be a great choice for a light lunch.
 Vegetarians might not have a lot to choose from on the menu at Haven Café – but if you do go, they have a pretty sensational roasted pumpkin salad that you must try. With Goats cheese, pomegranate, sunflower pepitas and a tahini dressing, the traditional pumpkin sweetness is given a gourmet flavour makeover. This is definitely a cult favourite – keep a look out for it on Instagram and Twitter.
 Lastly, we had a sneaky addition to the traditional Haven menu: the Soy Chai Pudding. Deliciously spicy and satisfyingly light, this gelatinous dessert will please the inner health nut in you. Even if it isn't on the main menu, we had to give it a brag. Hopefully this sneaky little mention helps it to transition on to the regular menu.
 Haven Café can be found at 34 Chalmers St, Surry Hills. Haven serves coffee from Monday-Friday, and serves a full menu of food on Saturdays and Sundays.

For more information, please see the Haven Café website.