Sabrina Muysken chats to acclaimed performer and Northern Beaches local, Tom Burlinson, about his upcoming gig at the Ku-ring-gai Big Swing Festival.
The Big Swing is certainly an apt title for Ku-ring-gai Council's upcoming open-air music festival. Celebrating the classic big band music from the 30's, 40's and 50's, a fantastic line up of talent will be performing some of the most-loved international Swing Music. Set for a night of vibrant entertainment, the audience is encouraged to kick-back on a picnic rug and enjoy the infectious atmosphere with friends, family and neighbours alike. Renowned local entertainer and leading act, Tom Burlinson, dishes on the upcoming festivities and reminisces on his colourful career . . .
[chat question="SO: What prompted you to get involved with the upcoming Ku-ring-gai Big Swing Festival?"]

TB: I've done events similar to this before across Sydney, at wineries, jazz festivals and even Taronga Zoo, and I just love the atmosphere of an outdoor event. The Big Swing Festival is a special one because people can come along with their families and loved ones to enjoy a delicious picnic and some fantastic music. Who knows, maybe they'll even have a dance! It really is set to be a fun night out.
[/chat]

[chat question="SO: Are there any performers in the line-up you're particularly keen to see?"]

TB: Yes, there are at least two of the great voices of Australian music performing: Doug Parkinson and Glenn Shorrock. They are just wonderful, and I'm really looking forward to seeing both of them perform in conjunction with the big band. Of course, Emma Pask is such a beautiful singer as well! And she'll be bringing her amazing talent to the stage. Then, there is Todd Mckenney of course too – Todd's so multitalented and such a great entertainer, not to mention Lucy Maunder. The whole line-up is truly incredible and with The Sydney All Star Big Band, you really can't go wrong. There is nothing quite like performing with a full 16-piece big band and it's actually quite rare these days to have that many people on stage performing this kind of music. The style of music is right up my alley! I'm really looking forward to it.

[/chat]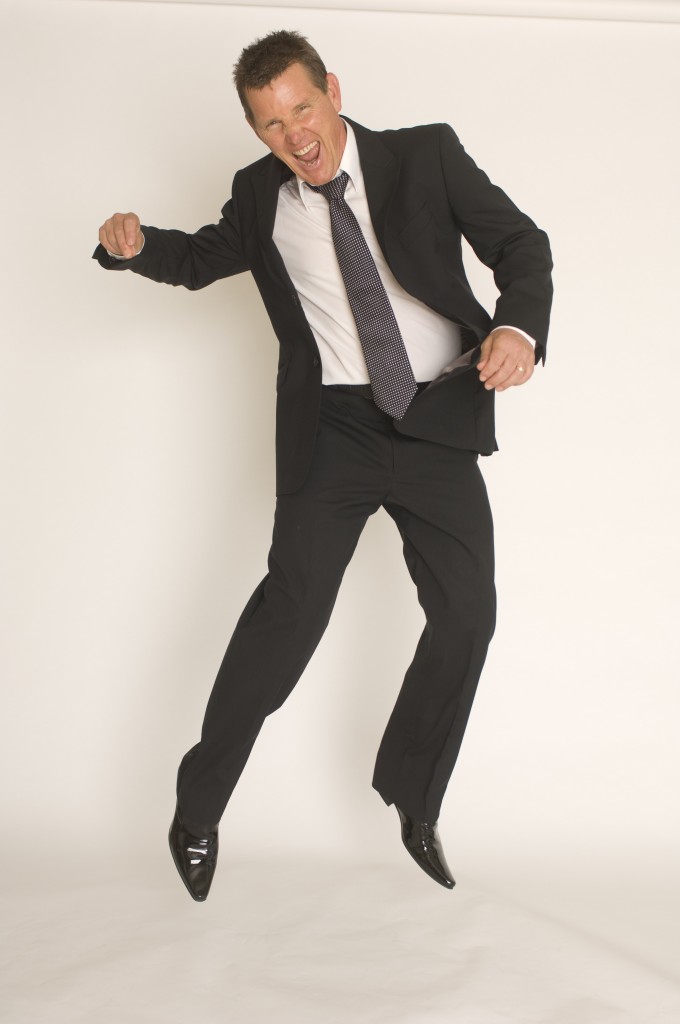 [chat question="SO: You've had an immensely successful career in entertainment so far. Has there been any significant stand out moments?"]

TB: I can't go past The Man From Snowy River. It was a tremendous break for me as a young actor and a real challenge for me to play that role convincingly. When it was accepted and loved, the film changed my life. It really was an unprecedented success for the Australian film industry. Even the movie that I did straight afterwards, Farlap, was another stand out film for me.
 On personal level, creating my own show Frank – A Life in Song was a big accomplishment as I produced, wrote and starred in it myself. Initially it was meant to be just 12 shows at the Seymour Centre in Sydney in 1998 and I'm still doing work with that show some 17 years later!
 Finally, being cast by Mel Brooks in The Producers, who flew me to LA for the audition, was pretty incredible too.
[/chat]
[chat question="SO: Having performed across Film, Theatre and Television productions, both acting and singing, do you have a personal preference?"]
 TB: Movies. Movies just reach so many people and there is something pretty amazing about being in a movie, well a successful one. My first love was actually the theatre and to be honest I've just always loved lived performance in general. There is nothing recorded in my shows and it's just pure live music – there is great value in that. It's a special feeling performing in front of an audience live and taking in their reaction to you.
[/chat]

[chat question="SO: You've toured the globe with your show 'Frank – A Life in Song'; can the Big Swing audience look forward to a few renditions of Sinatra's music?"]
 TB: Definitely! There will be some Sinatra music in there, because let's face it you can't do this style of music without putting a few of his songs in there. A lot of the arrangements that I have are actually based on the original arrangements that were done for Sinatra as well. There'll also be a few of his contemporaries in the mix, Tony Bennett and Michael Bublé and the likes.
[/chat]

[chat question="SO: You have a well-known love of Sinatra, how did your fascination with him begin?"]
TB: That happened when I was really young. I don't even remember it but my mother tells me that as a toddler in the late 1950's she had a Frank Sinatra album called A Swingin' Affair. Apparently, I would point to the photograph on the album and say "the man in the hat again!" (Laughs) I couldn't even say Sinatra I was that young. It wasn't until I was a young adult that I rediscovered that same album and thereafter really became a huge fan of Sinatra.
[/chat]
[chat question="SO: What other song arrangements will fans experience during your performance?"]
TB: There'll be something for everyone to enjoy. Obviously a lot of the music will be swing, but not everything will be in that mode either. I'll be performing a Latin number, some ballads and other numbers to change it up. I hope people start some dancing! This music was made for dancing, that's what it's all about.
[chat question="SO: What is the audience to expect from a night out at Ku-ring-gai's Big Swing Festival?"]

TB: Great artists, lots of songs people will recognise from each and every one of the performers and great musicians of course. I just think it should be a really fun night out; swing music is very joyful, happy and infectious. Also, what a great name to have, The Big Swing Festival!
[/chat]

Want to win tickets to the upcoming Big Swing Festival? Simply tell us in 25 words or less why you'd like to attend. Send your entries, titled "Kuringgai Big Swing Festival" to editor@kamdha.com 
The Kuringgai Big Swing Festival is on Saturday March 28, 5pm-10pm at St Ives Showground.
For more, see here.