In town with a hungry tummy and no cash to spend? Relax. We've found your newest go-to for mouth watering burgers at a minimum cost. Ninah Kopel reporting.
For those in the business of burgers, there's a new go-to place in Chatswood: Ribs & Burgers. Staying true to its name, the menu offers selected steak house favourites with a few sneaky twists. Some salsa,  and secret sauce add something a little bit different to the tried and true classics.
The restaurant itself is laid back, with counter service and comfortable booth seating lending itself to a cheerful, casual meal. Dark leather and wood are balanced out with cheerful jars of lights hanging from the roof,  and a recreated 'cool room' at the back of the restaurant.  It is decorated to appeal to a young market, with the decor a mix of old school sophistication with a touch of modern minimalism. Its location however, out of central Chatswood, makes its more likely to attract local families.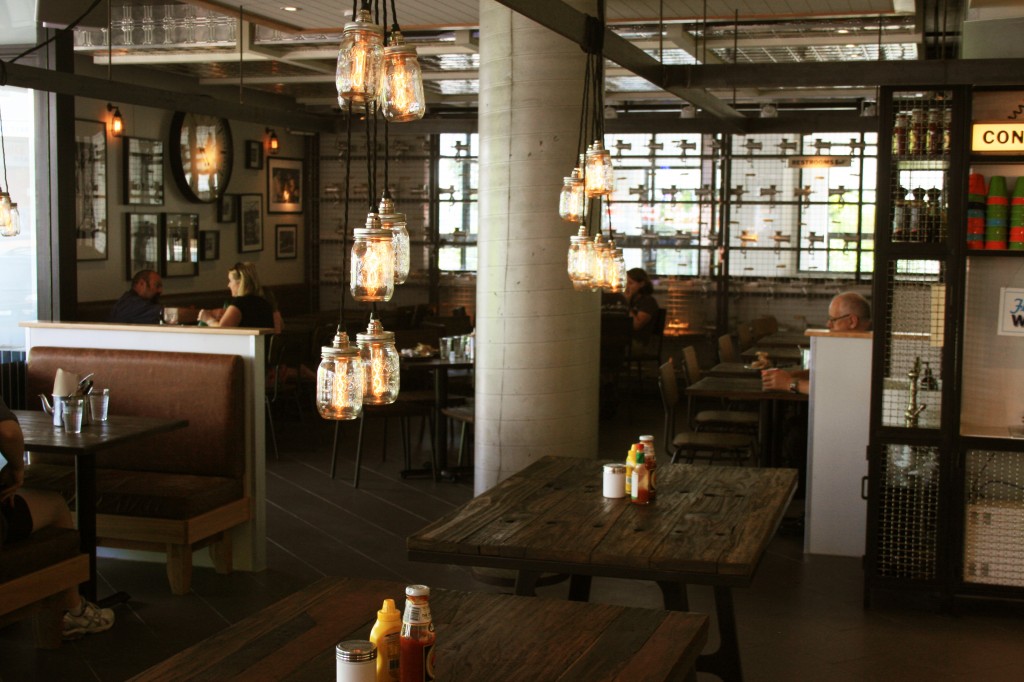 We decided on a cabbage salad to start, which was pleasantly fresh. It was a mix of crunchy red and white cabbage, roasted pine nuts, some mint, and parsley with some chopped apple and vinaigrette dressing to garnish.  It made for a light, healthy side and was tasty enough to justify the stomach space. After all, when ribs and chips are concerned, stomach capacity is a tactical issue.
The chips are classic: thickly cut and crispy. They come separate, and in two different sizes – again, allowing for some tactical, stomach-  capacity-based decisions. I would recommend saving some room for the chips. What's a burger without chips, anyway?
 But the hero is the burger. Everyone has different preferences when it comes to what makes a good burger, but the advice given to us was on the mark: think classic, and think meaty. It's all about the patty. We ordered an Old School Cheese and a Cajun Chicken burger, both of which we were very happy with. The cheese burger was cooked right: pink on the inside and moist without being greasy. It had a bit of a smoky taste, but it was the aioli sauce that made it special. It also came layered with American cheese, mustard, pickles, onion and BBQ sauce.
 The Cajun Chicken burger was also delicious. You might end up with salsa all down your shirt but the avocado, chilli mayo combo will compensate for the mess.
For a Sydney meat joint with atmosphere to boot, Burgers & Ribs is well priced. It is entering an area where the competition is rife, and customers probably already have a favourite 'place'. If the Thursday lunch atmosphere is anything to go by however, there are some people already jumping on board.
To see the full Rib & Burgers menu, please click here.