The ludicrous amount of online services for revenge-seeking will leave you gobsmacked.
Australian tech and pop culture website Mashable broke the news yesterday of a new online service that will leave your enemies radiating with both anger and glamour.
Ship Your Enemies Glitter is the latest in a whole range of online trades that give disgruntled users a chance to wreak havoc on those they loathe most.
What's suprising is the sheer amount of services that are available for this type of trade. In just 5 minutes, Sydney Observer found five payment operated revenge-seeking sites (none, unfortunately, available in Australia). For a small price, you can actually play an unlimited amount of pranks to get back at your enemies – some good for a giggle, others not so much.
Whilst these services do honestly provide a good laugh, it's probably best to leave your aggression in the hands of a qualified psychologist. As Mahatma Gandhi said: "an eye for an eye will only make the world blind".
1. GLITTER BOMBING
For only $9.95, the new website Ship Your Enemies Glitter allows users to send a devilishly fabulous letter to those that irk them the most. The letter contains a cheeky note to the villain, explaining how and why they're receiving this 'glitter bomb'. The note, may we add, is also laced with handfuls of glitter, leaving the hands, clothes and surroundings of the victim sparkling for days. Although this prank is probably the most passive revenge-seeking service on the market, you have to admit that a few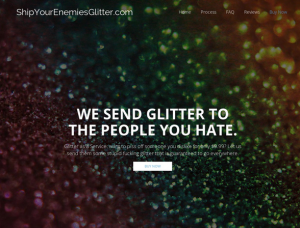 unexpected handfuls of glitter hurled your way would make you quite mad.
2. BOXED REVENGE
Boxed Revenge is the gift that just keeps on giving. The website has a broad range of cheap, despicable gifts to send anonymously to your victim, giving them either the shock or biggest disappointment of their lives. The first gift box available contains a "genuine" dead and mummified bat. That'll really get your message across. Other random revenge-seeking packages include a box of road kill, or if you're on a budget, a $5 slice of mouldy bread.
3. NEFARIOUS JOBS
Suspiciously shady revenge specialists, Nefarious Jobs, have a range of 'packages' that are available  to make your victims life miserable. The details of the packages are non-descript, but are named under such colourful titles as the $2, 200 'Reputation Shredder' and the whopping $10, 000 "Total Annihilation". Out of your price range? A generic "revenge on your ex" is only around $1, 800. With all packages undisclosed about what kind of prank will be played on your victim, maybe you should think twice about looking this one up.
4. MASTERS OF REVENGE
As the name suggests, this company specialises in quick and simple revenge packages – categorically suitable to any type of revenge. The website has one of the widest range of revenge options in the industry, including a variety of digital hacking packages. From fake emails, to staged deliveries, to gift-wrapped personalised voodoo dolls, Masters of Revenge has a revenge package suitable for everyone.
5. SH*TEXPRESS
Nothing expresses disatisfaction more than a steaming heap of manure. And for a small price, you can have just that delivered to the doorstep of anyone you please. Whether you would like your gift delivered in small heaps, or by the truckload, is completely up to you. Suprisingly, this site operates strictly using bitcoin purchases, which will ensure that your package is sent 100% anonymously. A bit distasteful? Definitely. Effective? We wouldn't hesitate to guess. For more, click here.