Incorporating old fashioned embellishments into the home can be a fun way to give a room some extra character.
Garage sales, antique shops or even your own cupboards are the best place to start if you're looking for items to liven up a living space.
However there's a fine line between adding a tasteful piece of art or antique furniture to a room, and creating a shambled space that looks like a half-hearted antiques shop. Use different items to express your interests and give any room in the house a personal touch.
The sewer
Why not throw an old Singer sewing machine into the mix? These kinds of machines are easy to find on Ebay. Try and find one that comes with the table stand included and then place photo frames next to it. This will ensure it blends into the room naturally.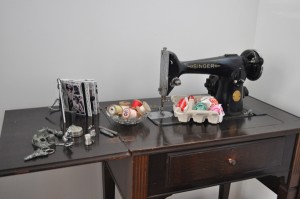 The musician
Rummage around and find your old vinyls, if you threw yours out when music moved online then ask family members or visit a few garage sales – they shouldn't be too difficult to find. Display them in a box in an open area. Try to find vinyls from your favourite musicians to make the process more personal.
The writer
Although most of us are busy tapping away on high-tech keyboards by now, as a homage to traditional typists find an antique typewriter. Put it on display, and it will make a great talking point – visitors won't be able to resist giving it a go.
The traveller
If you're an avid traveller then incorporating vintage suitcases into your home is a great way of showing this. While these kinds of suitcases may not be the most appealing pieces of luggage to carry around an airport, they can still serve an aesthetic purpose within the home.
To maximise the effect, collect different kinds of old suitcases in varied styles and sizes and stack them on top of each other. As well as looking pretty they can also be a great storage solution – consider using them to store CDs or photos albums from old trips.